Visit the newly opened ropes course at Rudziewicz Inn Piękna Góra. The ropes course is an ideal place for recreation and great fun – and that is not just for the children.
Ropes course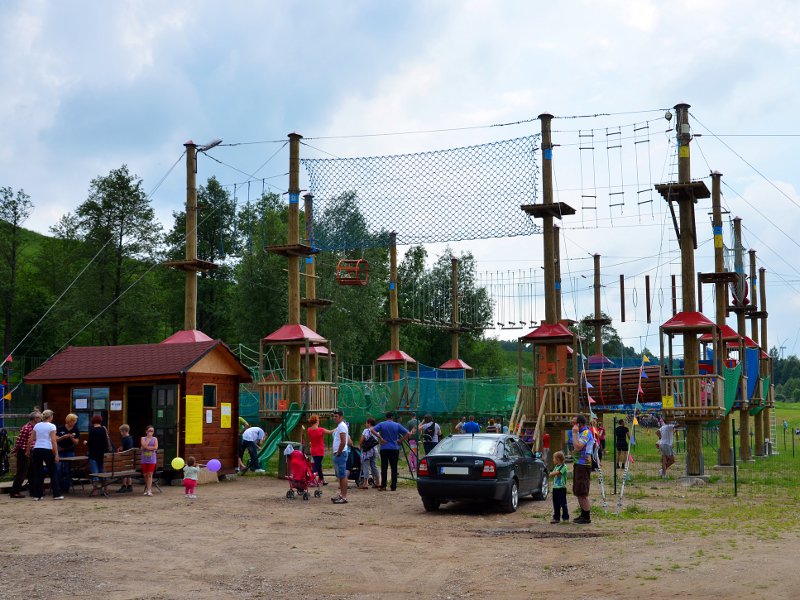 Opening hours
Mondey – Sunday: CLOSED
* Functioning of the Ropes Course depends on the weather conditions.
In case of inclement weather, inquire by phone at (87) 615-49-43.
Prices
Tall ropes course – 30 zł
Ropes course for children – 10 zł for one crossing, the next one crossing – 5 zł, the next one – 10 zł (crossing the course for children may take a max. of 30 min
Forest course – 15 zł
The pendulum – 5 zł
Zip-line ride over the pond – 15 zł
Bungee trampoline – 15 zł per person,  

NEW!
About the ropes copurse
Take the fitness challenge and cross the ropes course located in the picturesque scenery of Piękna Góra. This facility offers you great fun with a dash of adrenaline and active relaxation in nature. Our staff will ensure you are completely safe. There are three climbing courses of a total length of 540 meters. The zip-line ride over the pond, a course for the children – equipped with safety nets, an additional course on the trees and an especially difficult course for adults. Our offer also includes a giant pendulum. This challenge will make you feel free and will be an unforgettable experience.