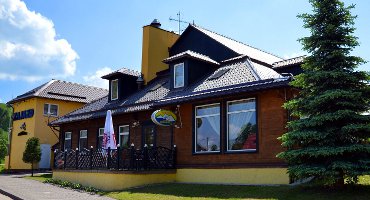 Read more +
HOTEL
We are prepared to take 60 guests in total. Comfortable, comprehensively furnished single and double rooms with the possibility to add another single bed and 2 apartments and a Studio have the same, welcoming atmosphere. Some of the rooms have a view of the picturesque reservoir and Piękna Góra.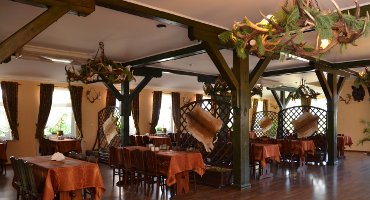 Read more +
RESTAURANT
The restaurant interior combines hunting trophies with a modern vibe. The air-conditioned room has very original lighting, a unique selection or wines and potted flowers. On sunny days, you can also dine outside.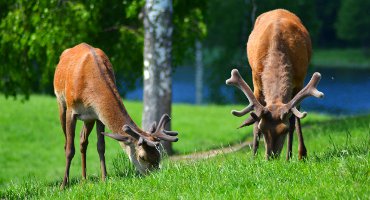 Read more +
BLOODLESS SAFARI
From May until the end of October, you can go on a bloodless safari at our enclosure for wild animals. This enclosure is located in the village of Zatyki, at the foot of Tatarska Góra and is called Rudziewicz Family Eco Farm.
Rudziewicz Inn welcomes you!
Here you will feel like in a fairy tale – and that's not just thanks to the comfortable rooms and attentive service staff – but mainly this is the fairy-tale bathing area, Piękna Góra mountain that is rising to the sky, and the alleys planted with trees and flowers. And for those who no longer believe in fairy tales we have a physical challenge – bathing, a safari, angling, skiing, snowboard, and sledding.
The entire facility has a very friendly and relaxing atmosphere. In order for this to be complete, we just need You...